Web Consulting
---
SEO - We do the research for you and find opportunities to improve your online visibility. We also tell you what your competition is up to. All of this juicy information goes into a report that you can give to your webmaster, marketing department, etc. We call this an SEO Analysis.
Conversion - Website traffic means nothing if you aren't making sales. We can help you increase your conversion rate, meaning more of your visitors will become customers. We'll look at every detail of your website to identify ways to retain visitors and make sales. Everything we find goes into a report we call a Site Analysis.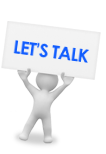 Office Visit - Depending on your location, we are available to come to your office and talk about your website strategy. If you've requested an SEO Analysis or Site Analysis, we can present the reports and answer any questions you may have.
People love the information we give them.
If you're interested, let's talk.